The School of English for Engaged Social Service (SENS) is a place for learning English as a tool for leadership, self-cultivation, and social transformation. It is a three-month course that takes place annually from January to April at the Wongsanit Ashram near Bangkok.
Leadership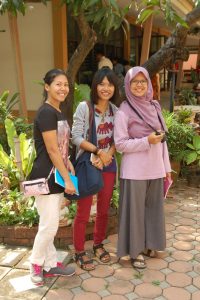 It is very difficult to set a life direction or to lead others if you are doubtful or unsure of your own voice, of your own value, or of your own place in the world. Mindful and compassionate leadership is urgently needed in the world at this time, yet many of us are in fact doubtful.
In SENS we recognize that this doubt is widespread, for many reasons. It is a doubt that can be especially deep for women, for members of minority ethnic groups or oppressed nationalities, or for those who grew up in challenging circumstances. Yet we know on principle and from experience that every human being who receives the necessary support has the potential for profound leadership. What is that necessary support?
Two kinds of support we try to provide in the SENS program are:
We do everything we can to appreciate the beauty and goodness of each participant in the course, as they are now, blemishes and all. We do this by appreciating them verbally, by soliciting their stories and opinions, and by listening to them with genuine respect and thoughtful attention. We de-emphasize critique, because everyone has been criticized and corrected so much that they become overly watchful of what they do, fearful that they won't do something right… or worse, that they could never be right enough. We think our students, like all of us, need to be reminded of what is already right. Once they know we genuinely see their goodness and beauty, it is quite easy for them to accept suggestions, critiques, and corrections when needed.
We also make an effort to get to know each of the participants in the course well enough to know what kind of support each one specifically needs. We try to keep track of their personal growth throughout the course, so that they can overcome even very personal and subtle but persistent obstacles.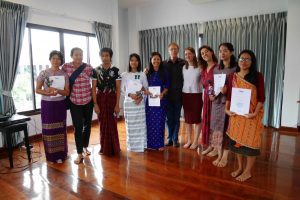 In trying to do these two things, we often fall short, and we sometimes fail completely, though that is rare. The important thing is that we also succeed. And we have become consistently better at learning how to support both individual participants and the group as a whole.
As evidence of those successes, we include here some of the reflections and goals that students shared at the 2018 SENS graduation ceremony held on April 4, 2018, generously hosted by Dr. Pichai at his Maenam Resort Nakhon Chaisri. Students crafted their own statements, but they received help with English phrasing, and their final statements have been edited for clarity.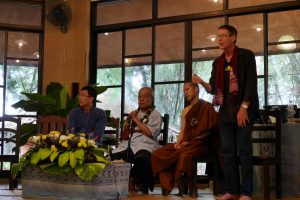 We are limited by space in this issue, but we hope to offer more of our students' voices, and share more about what we learned this year, in upcoming issues. If you are inspired by what you read here, you may help in one of two ways: 1) by spreading the word about the SENS program; or 2) by donating to the SENS Scholarship Fund: https://inebinstitute.org/donation/.
Next year's course runs from January 6 to April 3, 2019.
You can  find more information and apply at https://inebinstitute.org/eng/
---
Excerpts from Statements by SENS Students:
"For the benefit of all sentient beings." In our Korean historical DNA, this commitment has been working deeply in our unconscious. …. My goal is to live by this teaching until I die. …. Thanks to this course, SENS, I've met engaged Buddhist practitioners, grassroots movement leaders, and learned about many social activities in Thailand. It is very hopeful that there are so many social changers—more than I expected. For a long time, I've concentrated on domestic social issues, but now I've changed. I want to work for more international or global issues. SENS gave me a chance to have a wider perspective and to be confident to communicate with international workers. We are not separated, but connected, so that we can cooperate in many ways. This is my great experience here. Sae Rob Lee – Jungto Society, South Korea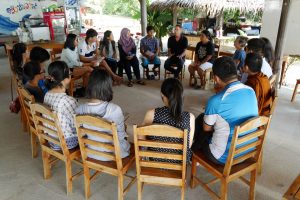 I see many new possibilities and learned a lot through this course. Through this program I have learned:
To be an effective leader you need to be able to respond to challenges with intelligence, strategy, and sincerity.
About the socialization and internalization of gender inequality through two wonderful women, Ouyporn and Ginger.
How important it is to have Kalyanamitra in one's life.
When people have the same values, they naturally come together in unison in some ways.
The importance of listening to what other people have to say.
How climate change impacts everything and everyone's life, and that even our civilization is at stake. This student has asked to not be identified.
As an adult, I haven't shared my feelings with my parents that much. But learning counseling has encouraged me to share more with them and also to listen to them. …. Before this course, I didn't have proper goals for my life. I just tried my best wherever I was or whatever I was doing. But now I see the value of identifying my goals and the steps I need to be able to reach them. Thet Nwe Soe – Metta Development Foundation, Myanmar.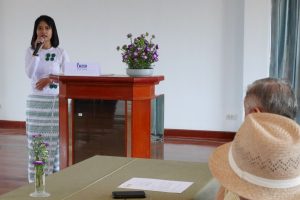 Previously, I stood for my Myanmar people; now I realize I need to stand for all living things. Because we have the same problems and we need to solve them all together. English language is a tool for social change. Therefore, it can be applied to connect to a global network. …. I decided to set up my goals for after this course as follows:
To do regular practice for improving my English skills into advanced level in 2018.
To listen deeply to my friends and community when they need someone to listen.
To do research about the traditional environmental conservation customs and beliefs of ethnic groups and how to create an environmentally friendly culture in my country. I aim to complete this research within two years.
To initiate an Eco Campus Movement at universities in my country that will go broader and deeper. Phoo Pwint – Kalyana Mitta Development Foundation, Myanmar.
I want to create a space in the countryside where youth can come to learn skills outside of school and access resources for personal development, including scholarships to study abroad, workshops and trainings, as well as community and network-building. These are not new ideas. But this course gave me the confidence I needed to move forward with them. Thank you to the SENS community and to all of our supporters for giving me the opportunity to learn more English. Samkham Meunsy – PADETC, Laos.
Ted Mayer